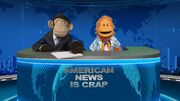 "PUPPIES!" Bungo - American News is Crap.
Bungo is a co-newscaster on the Glove and Boots News, as Blake Worthington's partner. He tries to be helpful, but he's a little clumsy or ignorant at times.
Appearances
Edit
American News is Crap (pictured)
The Bronze Gorilla
Glove and Boots - Outtakes 3!
Missing: The M From MTV
All Together Now
2013 Year in Review
CancelGloveandBoots
Ad blocker interference detected!
Wikia is a free-to-use site that makes money from advertising. We have a modified experience for viewers using ad blockers

Wikia is not accessible if you've made further modifications. Remove the custom ad blocker rule(s) and the page will load as expected.