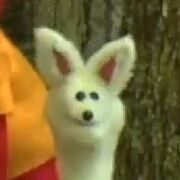 Bob-O is a vintage Glove and Boots character.
Bob-O is a shy rabbit who lives in a magic hat. He will pop out to say hello, but don't blink or he'll be gone before you can say abracadabra.
Fun Facts
Edit
Favorite Place: Paris, France
Favorite Color: White
Favorite Food: Salad
Favorite Game: Hide and seek
Favorite Actor: Harry Houdini
Favorite Number: 100
Ad blocker interference detected!
Wikia is a free-to-use site that makes money from advertising. We have a modified experience for viewers using ad blockers

Wikia is not accessible if you've made further modifications. Remove the custom ad blocker rule(s) and the page will load as expected.